Kingston, NY Real Estate Listings
kingston real estate mls listings | kingston homes for sale
Houses for Sale in Kingston NY 
You might feel like you're turning back the hands of time when you take a look at the Kingston NY homes for sale.  The diversified market boasts everything from classic colonial estates, to charming bungalows, as well as gorgeous Victorian and Queen Anne homes.  You will be pleasantly surprised at the variety you'll discover when you look at the beauty and craftsmanship of these homes from the 19th and early 20th century.  Having been meticulously maintained and/or renovated over the years, these new real estate listings are moving quickly.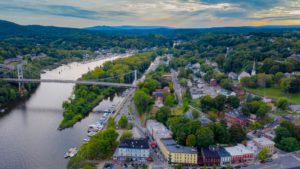 If the historic Victorian homes do not have you opening our mortgage calculator, the Kingston NY real estate market also offers plenty of townhomes, cozy Cape Cods and ranch-style homes near the center of town, secluded cabins, in addition to sprawling farm properties. Your real estate professional will point out that price ranges for the starter homes in Kingston (around 1,000 square feet) will average around $150,000.  While family-friendly homes, in good school districts, with three or more bedrooms, list between $300,000 and $400,000. At the higher end of the Kingstong market you will find properties that are situated on multi-acre parcels starting around $800,000 on average.  Working with a realtor near you will help navigating this market much easier.
Kingston's beauty doesn't stop at the homes themselves, though. The picturesque green lawns and mature trees surrounding these homes are what makes this market so desirable to those escaping city life.  The safe, peaceful atmosphere is ideal for anyone searching for hudson valley real estate. With a population of just over 23,000 people and an area just over 8.7 square miles, Kingston's walkability is another great selling point. What you will not find in the Hudson Valley MLS is how easily you can stroll next to the Hudson River, hike the local trails, and the cobblestone sidewalks of downtown Kingston all in the same day.  All this, just one and a half hours north of New York City.
Below you will find all of the houses for sale in Kingston NY (Ulster County).
The real estate listings are continually updated. 
Sign-Up and you will receive a notification when a property listing you are interested in is updated.

Sorry we are experiencing system issues. Please try again.